Chaos Theory
Posted by Amanda Gray on February 25, 2012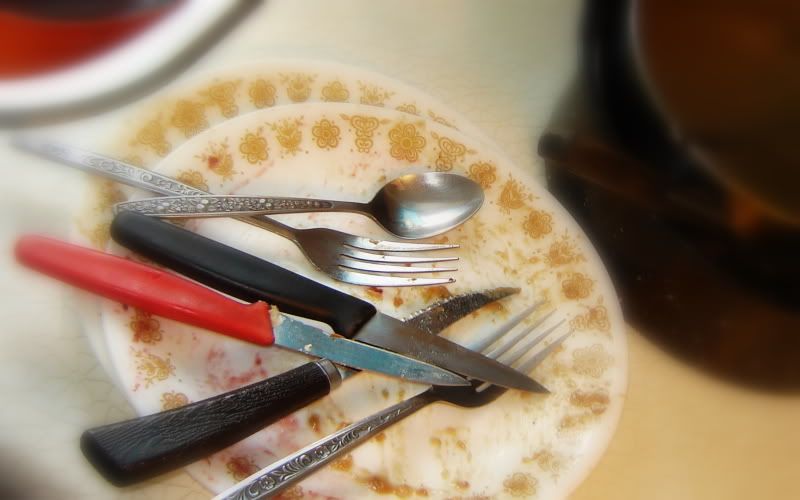 It follows that after my dream about Fragments, I would continue to explore the theme of order/chaos. It's manifested, most noticeably, in an issue with dirty dishes.
Last year, for a short time, I had a job in a hospital.  I performed in a food service capacity in which washing dishes was a significant part of the work. I did three training shifts with a partner, which went well, then I worked one shift on my own. Suddenly, I hated the job, and I immediately sent an email to my boss to say that the position wasn't suited to me and to ask if there was an alternative. Kindly, the boss scheduled me to work at the nursing home instead, in, pretty much, the same capacity. Again, I worked with a partner for three training shifts, and then I worked two shifts on my own.  Although I couldn't understand the problem, I again felt like I didn't want the job.  Fortunately, it was a casual position and after turning down two subsequent shifts, they stopped calling me to work.
As much as I tried to come up with a justification for rejecting the job, nothing really explained the foreboding feeling that arose whenever I considered it.  What was that terrible feeling?  It wasn't a horrible job.  I was entirely capable of handling the work. Yet, I just couldn't motivate myself to do it.
Many months later, I picked up some extra shifts with my current employer, as a waitress. Again, I had to handle dirty dishes, and, again, the same strange, dark feelings arose. When I finished my schedule, I immediately turned down all further waitressing shifts.
Now, for the past several weeks, I've been having conflicts with my mom over the dishes at home. The other day, I totally flipped out about it, and I was so angry, I had to lie down to calm myself.  I could see that the anger was, specifically, about the mess I thought mom made in the kitchen when she cooked and I accused her of using too many dishes to accomplish the meal. "It's not that I don't want to DO the dishes," I told her later, when I felt more conciliatory, "it's the MESS that I can't stand. It makes me NUTS!"
So, there it was. Over the past year, I could deny the issue by avoiding jobs with dirty dishes, but now it was hovering over me like a beast in my home, and I had to face it. Still, how was I perceiving the dirty dishes as some kind of threat?
Yesterday, as I drove through town, I noticed a number of people breaking traffic laws. Then, at a town dinner, a weird guy budded in front of me in the buffet line. What was the common theme in all this? Breaking the rules? Disorder?
This morning, the order/chaos lesson brought all the situations together:
Order, harmony, rules, clean, peace.
Disorder, conflict, chaos, mess, dirty, war. 
I had been believing that I had to control all exterior disorder to feel safe in the world. If a situation became too messy or chaotic, I would feel helpless and out of control. Help was often offered – at the hospital, nurses and were willing and available; at the restaurant, my boss and the cook helped me; and, at home, my mom helped – but I didn't WANT their help. The help just made me feel worse!  It was like I wanted to HIDE the mess, and if I accepted help, it meant that: a) I was unsuccessful at hiding the mess, and, b) that I was too weak to fix the mess by myself. Going a step deeper, I realized that I was experiencing this exterior chaos because I felt chaotic/conflicted within. I wouldn't be trying to fix a 'problem' of disorder in the world if I didn't think I had an intrinsic LACK of order in myself. Can chaos be real? Was I created as a chaotic mess? Is there a war within me? No, these ideas can't be real. The universe is friendly, harmonious, peaceful, orderly. How could I be different?  I have it on good authority that "I am still as God created me" (A Course in Miracles)… so how is it logical that God created chaos here?
I had been using 'order' as an 'idol'.  An 'idol' is something I believe will make me 'complete' instead of simply accepting natural completion as I am in spirit. It's a way of enforcing an illusory 'gap', a separation of subject/object, in what is already perfectly unified. I denied true completion and true unification and, instead, played a game of "I'm not good enough so I need to fix the mess in the world". The 'world' – which is merely a projection – the deeper truth of which is the belief that I need to fix MYSELF.  That I need to, somehow, restore order in myself.  That I need to reconcile the warring parties in my mind.  Can it be done? No, because I've never been out-of-order! There are no warring parties.  There is NO conflict in my mind. It's total nonsense! I had believed in a phantom.
And, *poof*, it's gone… because it never was.
________________________________________________________________
If you find this website helpful,
please donate to support my work.
Sorry, the comment form is closed at this time.