Fragments
Posted by Amanda Gray on February 14, 2012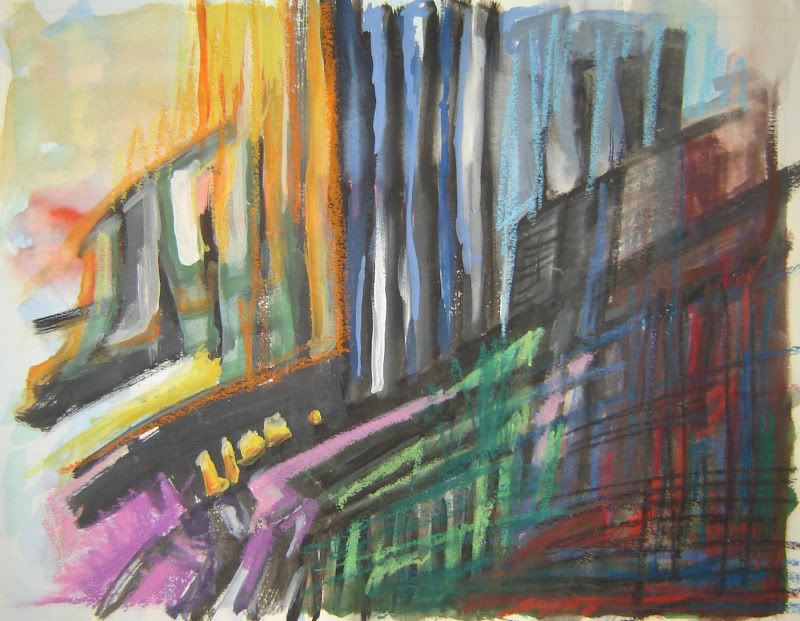 I had this dream a couple of days ago:
- I'm in a workshop of sorts, inside a big warehouse.  There is clay, moulded into flat squares on a table.  There are boxes of other materials too, metal and plastic shapes.  As I look at these materials I start to think about using them to make something.  I start to look for specific kinds of materials in specific shapes.  Then I think that the materials belong to my dad.
Interpretation:
Upon awakening, I realized how silly it was to take all those random materials and apply meaning to them, in rather random ways.  Does the mere presence of these materials indicate that I must do something with them?  Why do I think I need to create something out of them?  None of the materials resembled anything that ever belonged to my dad, so where would that random idea come from?  Perhaps it's like what the mind does with random fragments in the world too, applying meaning, or doing, or ownership where there, truly, is none.  The materials are also neatly sorted into boxes, indicative of the minds' tendency to keep things separate, organized and controlled.  What would happen if I dumped all of the pieces together in a big, chaotic mash-up?  Hmmm….
I had another dream this morning that was also full of fragments.  These fragments were, supposedly, from my theatrical past – old scripts, sheet music, photos, and other ornamental memorabilia.  I looked through this stuff to find the lyrics of a song because there was contention throughout the material and in my 'memory' about the last verse.  After I awoke, I could see that nothing in the dream was representative of my 'real' past in any way.  It was all totally random and imaginary, yet my dream character accepted it as 'real' and made up stories about it to further attest to its 'reality'.
Can I apply these dream messages to my waking life?  To perhaps see that even what I consider a 'real' past is also made up of random, imaginary fragments that only continue to seem real because I continue to make up stories to validate it?
In A Course in Miracles, text page 602, it says:
"It is not they [the senses] that hear and see, but you, who put together every jagged piece, each senseless scrap and shred of evidence, and make a witness to the world you want.  Let not the body's ears and eyes perceive these countless fragments seen within the gap that you imagined, and let them persuade their maker his imaginings are real."
Far out, man.  Deep.
________________________________________________________
If you find this website helpful, please donate to support my work.
2 Responses to "Fragments"
February 14, 2012 at 5:08 pm

Happy Valentine's !!!
Sorry, the comment form is closed at this time.